Deon Valentyn

---

---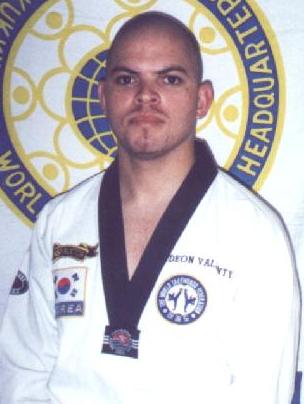 Deon Valentyn can only be described a keen Taekwondoist who hails from the Mitchells Plain area of Cape Town. Deon started his training nearly ten years ago with Master Taylor in Sankukai Karate and he was one of the first group of students to convert to TaeKwonDo with Master Taylor.

In 1997 he contacted an International Master, Tony Vohra who is based in Nottingham, England. Master Taylor had years ago established contact with the Nottingham school, but due to circumstances he had never been able to forge a closer link with GM Vohra. As Deon was looking for guidance and international certification, Master Taylor recommended him to establish ties directly with GM Vohra. That summer, Deon travelled to England to train with GM Vohra in England who was happy to certify him as a 1st Dan Black Belt Kukkiwon.

In December of 1998, GM Vohra, 7th Dan Kukkiwon travelled to Capetown to deliver Seminars and lessons before examining Deon's Capetown students. At that time, Deon also passed his 2nd Dan.
---
Return to Home Page
---

Updated by Hoosain Narker